What is a salon suite?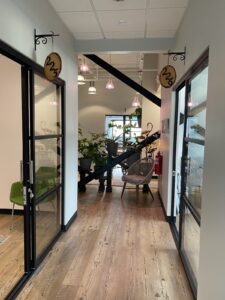 Salon Suites Belmont hosts 26 individual salon suites that cater to hairstylists and estheticians. The best way to describe a salon suite is a "boutique salon" concept. Now imagine individual hairstylists renting a salon suite while having the benefits of working within an epicenter of like-minded professionals. But able to run individual businesses.
Many beauty professionals operate their salon business within a salon suites business model. Above all, the suite model gives them the freedom to control their business as they see fit. In a salon suite model, stylists pay rent to someone else, but they run their own business. Stylists love the freedom from staff meetings and sales requirements while completely controlling their schedules. With 24/7 security, seeing clients after typical salon hours is available. You are an independent business owner and have the luxury to choose how you'll operate when you rent a suite at Salon Suites Belmont.
Rent a suite at Salon Suites Belmont
Operating a salon within a salon suite business is essentially like owning your own salon. You will have your own private space. Complete with four insulated walls and a ceiling, with the music of your choice, the products of your choice, behind a door that you can close and lock. 
Suite amenities; a cornerstone of success
Salon Suites Belmont's amenities provide the foundation for traditional salon ownership. In addition, offering turnkey, clean, classically appointed suite hairstylists now have a cornerstone of success. Salon Suite Belmont has removed the cumbersome start-up costs and processes associated with starting a business. In short, all you need to do is move in, set up, and inform your clients.
You know what they say… Location, Location, Location
Salon Suites Belmont offers salon space to rent at 2 Brighton Street on the Belmont/Cambridge town line in Belmont, Massachusetts. It is conveniently located one block from the Minuteman Commuter Bikeway, a ten-minute drive to Boston, and two miles from Alewife station.