Welcome to Salon Suites Belmont
Salon Suites Belmont is a boutique salon concept; welcome to Salon Suites Belmont! Salon suites is a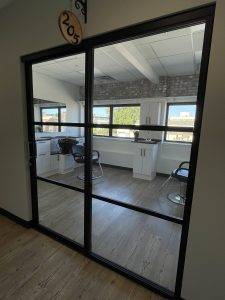 concept that brings hair stylists together, each renting their own suite. Stylists and estheticians benefit from a creative community while being independent business owners. Salon Suites Belmont has 26 individually insulated, private, and temperature-controlled salon suites for rent. Salon sizes from 100- 184 square feet. In addition, the location has parking, security, and 24/7 secured access for stylists and their clients. At Salon Suites Belmont, stylists have the freedom to be themselves and build their business in privacy.
Salon suite rental
Salon Suites Belmont offers many workplace benefits for those professional hairstylists looking for an independent salon suite. For example, are you determined to keep 100% of their profits? Own your salon business? Escape salon politics and drama? A salon suite rental may be the answer. In addition, a salon suite model removes all the startup overhead entrepreneurs face when starting their businesses. The path to creative and financial freedom begins when you rent a salon suite, start here. Welcome home to Salon Suites Belmont!
You know what they say… location, location, location
Salon Suites Belmont offers salon space to rent at 2 Brighton Street on the Belmont/Cambridge town line in Belmont, Massachusetts. It is conveniently located one block from the Minuteman Commuter Bikeway, a ten-minute drive to Boston, and two miles from Alewife station.
Salon Suites Belmont has completed the renovation process, is OPEN, and accepting reservations/deposits to rent a salon suite. Professionals should call or text (857) 678-0987 to schedule a private tour.