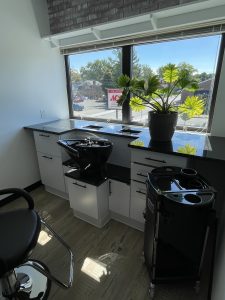 Salon Suites Belmont amenities are more than just the suite rental amenities alone. By providing the foundation for traditional salon ownership and offering turnkey, bright, classically appointed salon suites for rent. Hairstylists, nail techs, and cosmetology specialists now have the amenities needed to create a cornerstone of success. Furthermore, Salon Suites Belmont has removed the cumbersome start-up costs and processes associated with starting a business. In short, all you need to do is rent a salon suite, move in, set up, and inform your clients – start here to learn more about salon suite rental.
Get off to a strong start by taking advantage of the FREE Website/ booking app/and lead generation available to Salon Suites Belmont's professionals! If you need professional liability coverage, Salon Suites Belmont has secured a discounted rate for our professionals.
Salon Suites Belmont common area
The water feature in the front upstairs lobby creates a calming atmosphere from the first step into the salon

Common areas include a laundry room, kitchenette, and the lobby available to all stylists – all professionally cleaned

Three bathrooms
Salon suite rental includes all utilities, WIFI, lobby provisions, and common area cleaning

24/7 Electronic Security including video recording
Onsite maintenance
Salon suite location amenities
Private off-street parking

24/7 secured access for stylists and their clients

Conveniently located on the Cambridge line one block away from the Minuteman

Commuter Bikeway, a ten-minute drive to Boston, and two miles from Alewife station
Conveniently located above Hillside Garden Ace Hardware

*Premium Salon Suites include large windows for natural light

*Optional suite cleaning available at suite owner's expense
Most importantly, when renting a salon suite from Salon Suites Belmont stylists have the freedom to be themselves and build their business in privacy.
You know what they say… location, location, location
Salon Suites Belmont offers salon space to rent at 2 Brighton Street on the Belmont/Cambridge town line in Belmont, Massachusetts. It is conveniently located one block from the Minuteman Commuter Bikeway, a ten-minute drive to Boston, and two miles from Alewife station.

Salon Suites Belmont 3-D Tour