The next step to salon ownership has never been easier; simply rent a Salon Suite
So how do you rent a salon suite?
It's as easy as One, Two, Three!
First: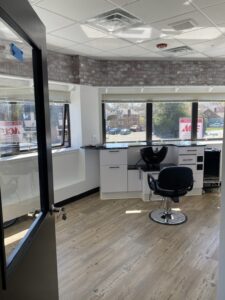 Let's explore the space where you'll host your salon business. Fill out the contact form to the right to schedule a private tour of Salon Suites Belmont. Salon Suites Belmont offers many workplace benefits for those professional hairstylists, nail technicians, estheticians, and other cosmetology specialists looking for an independent salon suite to rent. Operating a salon suite business is essentially like owning your own salon. You will have your own private space. Complete with four insulated walls and a ceiling, with the music of your choice and the products of your choice behind a door that you can close and lock.
Second: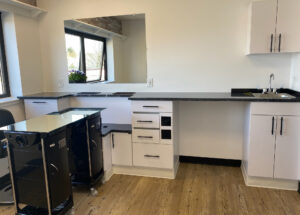 Rent a salon suite. Salon Suite Belmont has removed the cumbersome start-up costs and processes associated with starting a traditional salon business. Common areas include a laundry room, kitchenette, and the lobby available to all stylists – all professionally cleaned. Salon suite rental includes all utilities, WIFI, lobby provisions, common area cleaning, 24/7 Electronic Security including video recording, and onsite maintenance is available.
Third: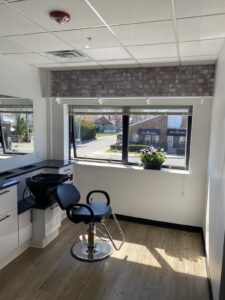 In short, all you need to do is move in, set up, and inform your clients. It's that easy!
You know what they say… location, location, location
Salon Suites Belmont offers salon space to rent at 2 Brighton Street on the Belmont/Cambridge town line in Belmont, Massachusetts. It is conveniently located one block from the Minuteman Commuter Bikeway, a ten-minute drive to Boston, and two miles from Alewife station. Commuting is convenient – you'll find Salon Suites Belmont two minutes off Route 2 and seven minutes off 95N/S.
Start Here
We value confidentiality and will not share your inquiry with any outside party. Professional hair stylists call or text (857) 678-0987 or fill out the contact form to the right to schedule a private tour of Salon Suites Belmont.