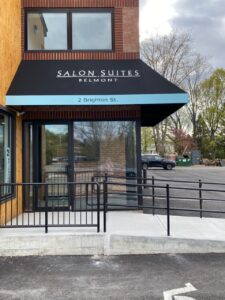 Are you ready for a new beginning to focus solely on your clients? Control your schedule and service your clients the way you want? Renting a salon suite from Salon Suites Belmont may be the answer.
Suite rental at Salon Suites Belmont is available for any licensed hairstylist. We also have four esthetician suites. Each of the 26 salon suites is private, insulated, bright and sunny, and temperature-controlled. In addition, the building has 24/7 security and ample parking! See details about the individual salon suites here.
Who could benefit from our salon suite concept?
Current salon owners who want to downsize to a salon suite business model. Renting a suite is an easy way to downsize from owning and running a traditional salon.

Stylists working for a salon who would like to open their own salon. But the resources to open an individual location are a roadblock. Suite rental is the perfect opportunity.
Stylists renting a chair at a salon who are ready to stop splitting their profits. When you rent a salon suite, you run your own salon business.

Entrepreneurs ready to run their own hairstylist endeavor. You're ready to go; start by touring our salon suites. You're going to love it!
  Are you ready for your own salon?
  ~Keep 100% of your profits
  ~Escape salon politics & drama 
  ~Manage your schedule 
  ~Set pricing for services and products 
  ~Sell the retail products you love 
  ~Personalize your salon space
  ~Enjoy private conversations
  ~24/7 Security
  ~Creative & financial freedom
  ~Run your own salon business!
Salon suite rental
Salon Suites Belmont offers many workplace benefits for professional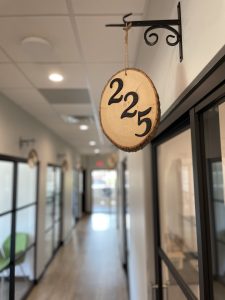 hairstylists looking for an independent salon suite. For example, are you determined to keep 100% of their profits? Own your salon business? Escape salon politics and drama? A salon suite rental may be the answer. In addition, a suite model removes all the startup overhead entrepreneurs face when starting their businesses. The path to creative and financial freedom starts here! The first step is to get in touch with us to tour the new salon spaces for rent where you'll be renting a salon suite. Welcome home to Salon Suites Belmont!
You know what they say… location, location, location
Salon Suites Belmont offers salon space to rent at 2 Brighton Street on the Belmont/Cambridge town line in Belmont, Massachusetts. It is conveniently located one block from the Minuteman Commuter Bikeway, a ten-minute drive to Boston, and two miles from Alewife station.